Facilities:
Bittersweet Acres currently has 35, matted, 12×12 stalls in two barns.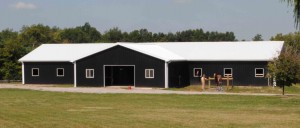 Both barns have tack areas and wash racks. Hot water is available. The farm also has hay and feed available for purchase.
Trailer parking is available if needed
There are two riding rings on the farm. A schooling dressage ring, and a large jumping ring complete with jumps. Both rings have a river sand floor and are regularly maintained to assure consistent footing. Both rings are lighted. We also have several cross country jumps on the farm. In all there are 50+ acres on which to ride your horse.
Boarding Rates

Self care: $295/month
Self care includes:
12×12 stall 12×12 stall
pasture space for turn out
use of all barn and riding facilities

Partial care: $340/month

Partial care includes:

All the benefits of self care with the addition of morning feeding and turnout (using owners feed and hay)

Many folks add this option in the winter to save coming to the farm on the cold winter mornings

We currently carry a McCauley Feed products. If owner requests different feed or hay options they will be responsible for different feed/hay

Trainers are available or you may work with your own trainer using our facility.

We try to be very flexible with our offerings and will make every effort to accommodate each horse owner.

We desire to make boarding with us a very rewarding stress free experience.

Pictures and additional information to come.