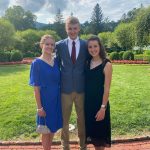 Patrick and Erica Higginbotham were excited when their dreams of owning a farm became a reality in September 2008 with the purchase of Manley Farm, an established equine boarding facility, on Military Pike.The farm will continue to operate as a boarding facility under the new name, Bittersweet Acres Farm.
Both grew up on large farms in south central Kentucky and are accustomed to the hard work and commitment required to operate a farm full time.They met early in high school and dated throughout their high school years and college.
Erica received a degree in Biology with a minor in Chemistry from Georgetown College before attending the University of Kentucky College of Dentistry where she graduated with her Doctor of Dental Medicine degree in 2003.
Patrick attended the University of Kentucky College of Pharmacy and received a Pharm D degree the same year and continued his education by completing a one year residency at the Veteran's Affairs Medical Center in Lexington.
The high school sweethearts were married during their final year of school in 2002 and decided to make their home in Lexington. Then in August 2007, the family size doubled with the birth of their twins, Elliot and Aubrey, who have blessed and enriched their lives. They have since added another daughter, Evelyn Sarah to the family, and are excited to have another child to raise on the farm.
Erica is currently employed with Beaumont Family Dentistry Leestown where she works part time. This allows her to maintain her dental skills but more importantly, to be home most of the time to raise the children as well as oversee many of the day to day operations of the business.
Patrick works at the Veteran's Affairs Medical Center in Lexington.
The family is very excited to offer their farm and their services to you and your horse, and look forward to meeting you. Please contact them for a tour. They invite you to speak to the boarders and to look over the facilities.