by Higginbotham on Oct.03, 2010, under Uncategorized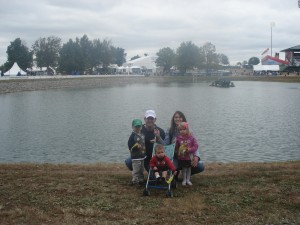 The intelligent parents that Patrick and I are, we chose the coldest day in the past four months to take our three small children to WEG. As we stood in line for the shuttle in the 50 degree weather and spitting rain, I questioned myself as to why we chose this day. Despite the weather, we had a great time touring the exhibits and taking in the trade show. The kids had a great time in the Alltech Kidzone petting the penguin and eating free Dippin Dots. We did not take in any events since we had all three kids. We plan on doing that later in the week. Hopefully everyone else will have the opportunity to experience WEG!!
No comments for this entry yet...