by Higginbotham on May.28, 2010, under Uncategorized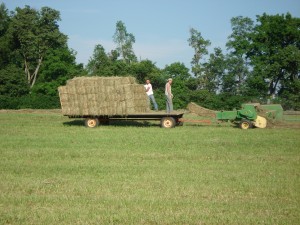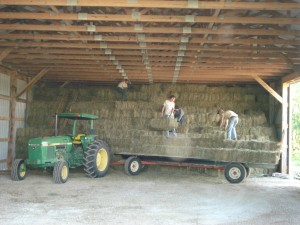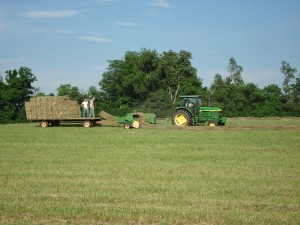 It has been another busy week at Bittersweet Acres. The construction projects were on hold this week as it was time to bail hay. Patrick and his dad spent most of the day on Saturday cutting the hay (Thanks Rudy for all the help this week!). Then Monday-Thursday were spent getting the hay in. There were a few hiccups along the way with the bailer, but we are very excited and Patrick is extremely relieved that it all got put in the new hay barn prior to Friday morning's rain. We had a lot of different guys helping, and they did a great job. Elliot and Aubrey had a great time riding the tractor with Daddy and Pa Rudy.
For those of you have been following the situation with my sister. You can follow her and the baby's progress at www.caringbridge.org/visit/sarahgardner. Thank you to all those who have sent out thoughts and prayers to me and my family during this difficult time.
No comments for this entry yet...